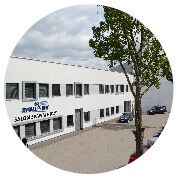 RYWAL-RHC Group
Welcome to the website of RYWAL-RHC, Polish market leader in welding. For almost 25 years, the specialty of our offer are the materials and welding equipment, as well as abrasive materials and accessories, personal protective eqipment and many other goods and equipment in the field of joining and cutting metal using heat.
We manufacture equipment and materials under our own brand MOST and distribute welding equipment of world known brands, so we are sure that our product range stands out for its reliability and high class. We are happy to advise you which welding consumables are appropriate, and what welding equipment should be used in a particular process.
If you are interested in a professional welding machine, technical chemistry, abrasives or other goods from the welding industry, we encourage you to familiarize yourself with our proposals, and our service.