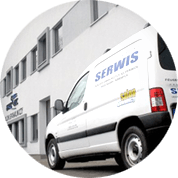 RYWAL-RHC Group offers complex maintenance services (warranty and after-warranty repairs) welding, grinding and cutting. We service also the welding equipment gas - burners and reducers.
We also provide periodic inspections mentioned above devices under the "Security" in accordance with the Regulation of the Minister of Economy of 27.04.2001 on health and safety at work welding.
We are experienced in servicing of welding and abrasive equipment. Our service department is based on highly skilled specialists, with great knowledge and experience. We invest in their development by securing all necessary trainings and courses.

We offer help in choosing the welding equipment proper to our customer needs. We service all equipment which was bought in our network of Welding Shops as well as equipment not sold by us, however manufactured by producers which authorization we have.
We secure transportation and care all over the Poland and short time of repairs and for individual request we provide alternate equipment.
We offer:
• Warranty repairs
• post-warranty services
• Fixed service contracts
• Package "Security" - complete overhauls and carrying out the required documentation regulations
• The modernization and repairs
• Research fuse gas
• Purchase and consignment of equipment used
• Technical consultancy
• Rent equipment
• Electrical protective measures